Artists appearing
at Festival at the Edge 2017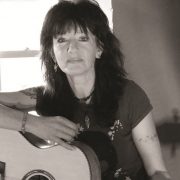 Hailing from the North Yorkshire National Park, Anna Shannon deeply embraces all things rustic. On hearing her homespun and organic compositions it is clear that the wonders of the natural world are the things that strongly colour her narratives. She is an immensely skilled multi-tasker, a creative and strikingly accomplished singer, songwriter, multi-instrumentalist, arranger and designer, with her own definite, intense vision and a strong musical identity to match.
2006 saw her first album "The Whale Dreaming" being released after being encouraged by winning BBC Radio "Yorkshire Songwriter of the Year" which she had entered on spec. Since that time Anna has released numerous albums, and her latest, "A Celebration of Old England", released by Wild Goose Records, sees her forging a strong path into the heart of today's folk club and festival circuit.  Anna is carrying on a musical tradition, finding fresh meaning and relevance for us all in the old ways.
"stunning singing voice and distinctive guitar style"  Roots magazine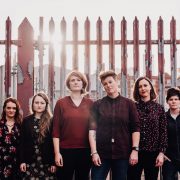 COVEN: O'HOOLEY & TIDOW, LADY MAISERY & GRACE PETRIE
Coven is the collective of three of the British folk scene's finest, most formidable and forthright female acts; the exquisitely harmonic songwriting duo and BBC 6 Music favourites O'Hooley & Tidow, the enchanting BBC Radio 2 Folk Award Finalists Lady Maisery and the irrepressible Leicester songwriter, activist and performer Grace Petrie.
Three years ago, Belinda O'Hooley, Heidi Tidow, Rowan Rheingans, Hannah James, Hazel Askew and Grace Petrie got together to celebrate International Women's Day in March, with a series of three concerts.  Since then, the tour has extended year on year with 2017 seeing them release 'Unholy Choir'; an EP of the songs that the group has collaborated on.  Experience these thought provoking, heartfelt, entertaining and enthralling women performing individually and collectively on one stage.
O'Hooley & Tidow: 'Defiant, robust, political, northern, poetical folk music for the times we live in.' Independent
'Lady Maisery are women with ideas, purpose and urgency. They create powerful, enthralling work.' Songlines
Grace Petrie: 'A powerful new songwriting voice.' Guardian
Emily Hennessey is a performance storyteller.  Playful, imaginative and daring to take risks, Emily tells myths, legends, epics, folktales, fairy tales and fables from around the world, from the Hindu epic, the Ramayana to African Anansi stories.   With a Swedish background, Emily also loves to tell Scandinavian folktales and Norse mythology.  Emily's work is often described as intelligently composed and beautifully performed, while her storytelling style is said to be warm, captivating, bold and witty, delighting audiences of all ages.  Recent performances include a tour of India with the British Council, the Royal Opera House, the Viking Ship Museum in Denmark, Soho Theatre, Richmix and Beyond the Border Storytelling Festival.
An avid 'story collector' as well as teller, her travels take her on adventures around the world.  Emily has spent many months researching storytelling tradition and technique in rural India, from Pandvani in Chhattisgarh to Kathakali dance-drama in Kerala.  As well as learning a beautiful way of life steeped in Tibetan Buddhist folktales in Ladakh (and becoming an expert in yak-herding), Emily worked at the extraordinary Kattaikkuttu School in Tamil Nadu, learning from the children who perform stories from the Mahabharata through music, dance and song from the age of 4.
Now living in Cumbria, Emily used to live and work in Kent where she was Director of Scandalmongers – a storytelling theatre company and ran ScandalNights – a popular storytelling club at the Tom Thumb Theatre.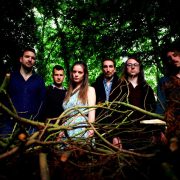 Hailing from Faversham in Kent, folk-¬rock band Green Diesel first emerged in 2009 and take their inspiration from the depths of English folk lore and legend and the classic folk rock sound of their predecessors Fairport Convention and The Albion Band. Blending violin, mandolin, dulcimer and accordion with electric guitars and drums, Green Diesel's sound is born from a love of traditional English music and a desire to bring it to a modern audience.
Performing original compositions, steeped in folklore, alongside inventive reworking of traditional songs and tunes the band have built up a reputation as a fearsome live act.  Their energy and musicianship grabs the audience by the scruff of the neck and leaves them wanting more.
The band's third album 'The Hangman's Fee' (released 10th February on Talking Elephant Records) features songs inspired by the darker side of folklore.  Sinister spirits and bloodstained tales weave their way through the album backed by the signature Green Diesel sound.  English folk, red in tooth and claw, performed by a band at the top of their game.
Julie Murphy is a singer songwriter and member of Welsh folk innovators fernhill.  She writes songs at the piano at home in the Welsh countryside.  Her remarkable voice, spectrally beautiful one moment and darkly rich the next, has led to collaborations with John Cale and Robert Plant and to TIME OUT declaring her a 'must see, must hear singer'.  She describes herself as "an artist working through the medium of music" whose art school background laid the foundation for her continuing musical explorations.
In 2016 she released her fourth solo album 'EVERY BIRD THAT FLIES' on her own 'Shells in the ocean' label, receiving support and airplay from across the BBC plus independents like Resonance and FRUK.  The album was included in the MOJO Top ten folk albums of 2016 list and was a fROOTS magazine critics choice album.
"Such a beautiful song from the new and rather splendid LP" GIDEON COE BBC 6 MUSIC
"Oh my god this is beautiful, every piece of music on it is fantastic" ADAM WALTON BBC RADIO WALES INTRODUCING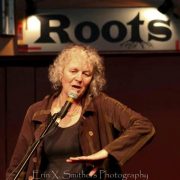 Marion Leeper grew up in a family of actors, raconteurs, tellers of tall tales and downright liars.  She has been listening to and telling stories (true and less true) for longer than she can remember.  She tells stories for children of all ages, and specialises in multi-sensory storytelling for the very young and for people with learning difficulties.
Marion has toured her adult shows to clubs and festivals around the country and internationally.  Based in Cambridge, Marion and her amazing story mat are familiar visitors to museums, schools and libraries around the region.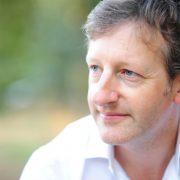 Michael has told stories both as a solo performer and with other artists throughout the UK and Europe as well festivals in North and South America.  Most of his work is in either English or Welsh and occasionally both at the same time!  He is a familiar performer in the UK festival and club scene and draws particular inspiration from the Welsh oral heritage and landscape.  He combines depth of material with lightness of delivery which is timed and paced to perfection and minted fresh for every audience.
Many will have seen him on tour with Hunting the Giant's Daughter, a faithful and contemporary retelling of the earliest Arthurian tale.  In 2011 he was awarded a Major Creative Wales Award, and took part in the 3rd Labo at La Maison du Conte in Paris.  Michael was a featured teller at the 2012 US National Storytelling Festival in Jonesborough, Tennessee.
Nell is a full-time performance storyteller based in London.  Recent work includes stories told in the museums, palaces and schools of London, the storytelling clubs around the UK, for NTS Live, Dalston's cool digital radio station, and for the UK's premier storytelling producers, the Crick Crack Club.  Recent commissions include Wellcome Trust, Hampton Court Palace, V&A, British Museum, 40 Winks Bedtime Stories, World Wildlife Fund, Arts for Human Rights, After Adoption, Radley Handbags and Selfridges.
She has told hundreds of stories to thousands of school children, 3-19 years old, in the UK, India, Colombia, Mexico and China. Nell recently performed at the Amsterdam Storytelling Festival, Alden Biesen Storytelling Festival, and Nivesh Festival, Delhi, and was part of the ICELT (Arts in Education) Conference in Malaysia 2015.  She is Patron of Reading at two Haringey Primary schools, encouraging the students to connect with all things story.
She is Artistic Director of StoryNight at Torriano, Kentish Town's thriving performance storytelling clubs for adults.  Nell is a passionate promoter of storytelling as a contemporary performance art.
'Phoenix is a mercurial and captivating performer'  Dave Fargnoli, Exeunt Magazine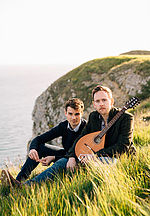 NINEBARROW are a multi-award winning folk duo, who are impressing audiences across the country with their innovative and captivating take on the folk tradition.  Described by Mike Harding as sounding 'damn fine' and by Kate Rusby as 'absolutely amazing', Jon Whitley and Jay LaBouchardiere combine breath taking vocal harmonies and melodies, delivering original songs that are inspired and rooted in the landscape and history of the British Isles.  As well as crafting unique and engaging original material, Ninebarrow also take a wide range of traditional folk songs and rework them in their own, distinctive way.
Not only exceptional singers and musicians, Ninebarrow are also equally passionate about the stories behind their songs – combining their music with history, folklore and storytelling.  The duo were recently nominees for 'Best Duo' in the Fetea Magazine Awards 2016 and in 2017 are nominees for Best Duo in the BBC Radio 2 Folk Awards.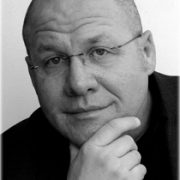 Patrick Ryan has worked as a teacher and professional storyteller for over thirty years.  He regularly tours Britain, Europe and the US performing, lecturing and conducting a variety of workshops.  Patrick has written for the BBC and has also actively participated in several major storytelling projects, among them:  'Living Stories of the World', a multi-cultural workshop for primary children in inner and outer London; 'Telling the Tale' with the Lion's part in Southwark schools and at Globe Education, Globe Theatre;  'Listen Up!' an innovative, long-term storytelling residency in Northern Ireland primary and secondary schools; and  'Writing Together', the resident storyteller for a NAWE project with writers resident in nine schools, primary and secondary, across England every term for 3 years; the impact of writer and storyteller residencies on pupils' learning and development and teachers' methodology was monitored and a major study was presented to the Qualifications and Curriculum Authority with recommendations for the future planning of residencies.
Patrick is based in London. He grew up in Illinois in the USA, and attended the University of Illinois and the University of Chicago.  He taught primary school in the USA and Britain for ten years.  In 2004 he completed his doctoral degree at the University of Glamorgan, where he is currently a research fellow at the George Ewart Evans Centre for Storytelling.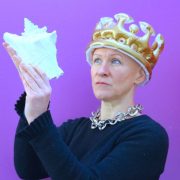 Ruth is one of Scotland's leading storytellers, a charismatic live performer and a highly regarded singer.  Born in the North East of Scotland, Ruth is widely seen as a Tradition Bearer, having been lucky enough to 'sit at the knee' of the great storytellers which Scotland has borne – Sheila Stewart, Duncan Williamson, Stanley Robertson and David Campbell.  She has a broad repertoire of stories and songs from Traditional and local Traveller sources.  More recently she has experimented with biographical storytelling, and this year performed a sell out show about the life, songs and poetry of Robbie Burns.
She has worked for over 30 years in social work listening to people's stories and has been professionally telling for 17 years.  Her real strength is in forming a warm, authentic rapport with her audience, respecting the tradition but also giving her performance a loving, feisty sparkle.  This makes her a popular guest at Festivals worldwide, from the glaciers of Iceland to the bookshops of India.
Ruth's project and publication, 'Stories Allways' successfully develops innovative ways to use storytelling with children and families who have emotional and social needs.
" the jewels from your experience and the poetic language you drop in that opens the heart to join the mind."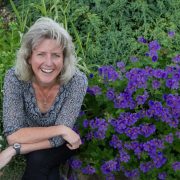 Sal has been working in education, health and community settings for over twenty years blending stories and music, memories and conversation.  She is currently Storyteller in Residence in two special schools in the West Midlands as well as in Artist in Residence for a network of care homes and supported living projects in Staffordshire.  Sal also delivers sessions in schools and libraries particularly for Early Years audiences.
She has worked with the cabaret show Three Men in a Bow Tie for over five years and is currently touring Sheep Tales to village halls nationally.  She sings and plays guitar as one half of duo Daylevel and is a regular artist for Music in Hospitals.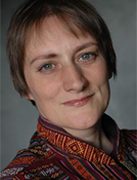 Sarah is a professional storyteller and actor based in west London.  She trained in community storytelling in South Cheshire, and in acting at Drama Studio London.  Over the last ten years Sarah has performed at a diverse range of venues, from museums and theatres, to pubs, cafés, and a Saxon longhouse.  Her engagements have included: Performing at the Nivesh Festival, Delhi, and the Kolkata Literature Festival, on behalf of the British Council;  a national tour of her show Gawain and the Green Knight;  Working with storytellers from five international festivals, as part of the Grundtvig Programme; and a support slot with Perrier award-winning comedian Milton Jones.
Sarah's work is dynamic, irreverent and defiantly un-twee.  The audience are seldom passive onlookers, and could find themselves answering riddles, singing rounds, or eating exotic food.  More recently, she has become fascinated by the links between ancient folklore and modern urban myth, ever since the night she gave a lift to a lone hitchhiker and awoke next morning in the gutter minus a kidney.
Steve Turner is known as a pioneer of highly sophisticated English concertina song accompaniments, stretching the boundaries of traditional forms, with one of the best voices in the business. He is a multi-instrumentalist, who also accompanies himself on the cittern, and also plays mandolin and banjo.  After a thirteen year break, building up an internationally known stringed instrument business, he made a welcome return to performing in folk clubs and festivals in 2005.
Steve's 5th album, his first for 22 years 'The Whirligig of Time' was long listed for the BBC folk awards in 2008.  His 6th album "Rim of the Wheel" was released in spring 2012 and received rave reviews – David Kidman in N.E. Folk Roundabout called it "sheer genius a sure contender for one of my folk albums of 2012".  This was backed up by many festival bookings and re-plays on the radio on the Mike Harding Show Radio 2 and Late Junction Radio 3 and a full page article in fRoots in July 2012.  Steve's new 7th album 'Spirit of the Game' was released in January 2016.  In the fRoots August/September 2014 edition, Nancy Kerr in her 'Rocket Launcher' interview when asked "what was the best gig you ever saw?" answered "the best spot I've seen recently was Steve Turner – total intensive musical focus and a vast serious repertoire"
Vicki Swan and Jonny Dyer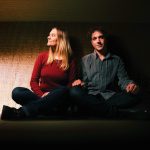 Vicki Swan and Jonny Dyer have developed a strong reputation for delivering great performances time and time again. Once known mainly for their instrumental skills with Scottish Smallpipes, accordion and Swedish Nyckelharpa, they are now being accepted as impressive song arrangers and writers.
Vicki and Jonny effortlessly blend traditional material with contemporary interpretations whilst equally creating original self penned tunes and songs that are entirely at home in the tradition.  Out of this combination they have developed a sound that is both familiar and fresh.  Strong believers in letting the music tradition live and breathe through sensitive interpretation, Vicki and Jonny allow the melody to sing without any constraints.  Winter 2016 saw Vicki & Jonny as the front cover of the Living Tradition Magazine with a centre spread interview.
Vicki has now returned to her Swedish roots with the addition of the Swedish Nyckelharpa, Swedish bagpipes and translating Swedish ballads.  Vicki  was a member of the 2013 European Nyckeharpa Orchestra, runs the Nyckelharpas at Halsway and was a tutor for the International Days of Nyckelharpa in Germany for 2014 and 2015.  Jonny Dyer (Vocals, Guitars, Accordion) composer and competition-winning guitar player.  Jonny's outstanding technical ability, coupled with a wide-ranging musical taste has made him a tireless and forceful musical innovator.   Jonny has been singing choral music and playing soul, jazz and folk for as long as he can remember.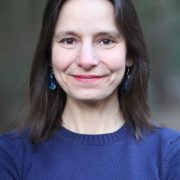 'She speaks like a woman spitting jewels'  Arts Council
Xanthe Gresham summons goddesses and heroes to take centre stage, not from some long forgotten past, but emanating from here and now, you and me.  She unfolds each tale like the petals of a lotus.  'At the end, you leave with something beautiful created in your own mind.' British Theatre Review.
Xanthe's work is highly energetic and distinctive and has captivated audiences all over the world:  'We were enraptured!'  The Telegraph;    'Exquisite timing!'  The Irish Times;    'Held the audience in the palm of her hand!'  New Zealand Times.
She is currently touring the Goddess Tales, described as a series of minor miracles as she morphs from one goddess to another, performed at The Barbican, The National, Northern Stage and The Cheltenham Literature Festival.  The British Museum states that working with Xanthe ensures first rate storytelling and first rate performance that forges powerful links with listeners.  Commissioned epics have toured to the Smithsonian, the Ulster Museum and the Harvard Art Gallery.  Xanthe was Storyteller in Residence for the Chelsea Physic Garden and Stoke and Staffordshire Libraries, Storyteller Educator for the Tate Gallery and is Lecturer in Drama and Storytelling at the University of East London.
The 26th Storytelling Festival at the Edge - Friday 28th July to Sunday 30th July 2017