Artists appearing
at Festival at the Edge 2018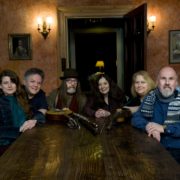 Established in 1996 this multi-instrumental and vocal sextet have been credited as playing a key role in "…. establishing the rightful importance and place of Wales within Celtic music and helping to put it well and truly on the musical map …." Living Tradition Magazine
Touring since 2003 the band has performed concerts and festivals in Austria, Germany, Switzerland, Belgium, Luxembourg, Czech Republic, Brittany as well as at home in the UK where appearances have included Celtic Connections Glasgow (twice), the Great British Folk Festival, Bromyard Folk Festival, Wallingford Bunkfest, Shepley Spring Festival and Eisteddfod Gendlaethol Cymru.
Allan Yn Y Fan is: Alan Cooper on fiddle; Geoff Cripps on bass, bouzouki, vocals; Chris Jones on Accordion, flute, low D whistle, vocals; Catrin O'Neill on lead vocals, bodhran, guitarlele, guitar; Linda Simmonds on Mandolin, mandola, bodhran, vocals; Kate Strudwick on, flute, alto-flute, recorders, whistle and vocals.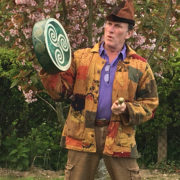 Andy has been a performing storyteller for the past 15 years and describes himself as 'loud and bonkers in a subtle sort of way'.  His passions have always been history, legend, myth and the Wild Places.  And 'Carry-On' films.  So you can expect stories that range from the traditional to the downright bizarre.  He's dipped his toes in the worlds of pantomime and street theatre and embraces the outrageous with a hint of dark humour.  Andy states that he: 'cut his teeth on children's parties, which is as dangerous as swimming with naughty sharks in acid jelly'.  He also offers his services as a Town Crier, Master of Ceremonies, auctioneer or sandwich-board-man (ham and cheese preferred).  He'll tell you anything from an epic to a dirty joke, and if you see him around the Festival site, buy him a beer.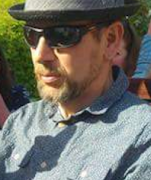 Do you want to greet the day with the strength of a Tiger, the elegance of a Crane, the suppleness of a Snake, the agility of a Leopard and the power of a Dragon?  Andy will show you how in his Animal Forms Tai Chi class.  A fun mixture of gentle exercises designed to promote health, relaxation and vitality and suitable for all ages, abilities and levels of experience.  Andy teaches Tai Chi classes in South Shropshire and is a member of the Shropshire Tai Chi Academy.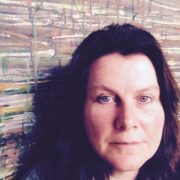 AML (Anne Marie Lagram) is an artist and folklorist who spends a lot of her time travelling around the British Isles collecting folklore and inspiration for her artwork as well as giving talks. She runs workshops and activities relating to celebrating the year which always involve a creative activity interwoven with stories, superstitions and sayings.
Anne Marie annually publishes the Country Wisdom & Folklore Diary as a means of 'keeping alive the old ways.'  In 2018 she undertook an arts council supported project called, 'Medgel – Portrait of a witch.'  She worked with storytellers Amy Douglas and Sal Tonge to explore the wider connotations of the folk story of Mitchel's fold stone circle where Medgel the witch is supposedly imprisoned.
There is still more to explore around the bigger picture relating to women, witchcraft and 'otherness' and the prejudice it attracts.  This year she has worked as Shropshire's lead artist for the national 'Processions' project in collaboration with DASH and Artichoke.  This project involved creating a banner with over 100 women to reflect what they wanted to express about themselves and in relation to the wider picture.  The Procession of the banner in Cardiff celebrated 100 years of some women getting the right to vote and commemorated the marches that they did.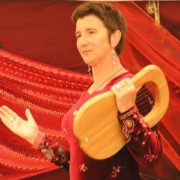 Cardiff Storyteller and Singer Cath Little has "rough magic" in her voice and in her words "the gift of the story shines through". She has a strong sense that stories have the power to connect us to one another, to the land and to the people who once lived here.
Cath has told stories at Festival at the Edge, Beyond the Border Storytelling Festival, Glastonbury Festival of Performing Arts, the BBC Proms Folk Day and Aberystwyth Storytelling Festival. She regularly tells at The National Museum of Wales. Cath helps run the Cardiff Storytelling Circle and curates their seasonal concerts, Tales for the Turning Year. She keeps busy telling stories in local schools and runs a Family Storytelling Club for her community. She also runs a storytelling circle at Oasis, a Cardiff charity which offers a warm Welsh welcome to refugees and asylum seekers.
Cath is passionate about sharing these treasures, gifts from the ancestors and in her belief that the stories belong to us all and are meant to be heard. She is the author of Glamorgan Folk Tales for Children, published by the History Press.
Ceri Ridge Trading Company
Trading Company is a four piece old time string band of established musicians from Powys, playing old time Americana and folk. The band are: Chris Brown – Banjo and vocal; Linda Rowe – Acoustic guitar and vocal; Jack Rowe – Fiddle; Paul Cashmore – Bass, percussion and vocals.
2017 has been a big year for the band having recorded their debut album and playing summer festivals with new fiddle player Jack Rowe.  The album will be available from October 2017 but has already received great press.
What the press have to say
• It's not often a modern twist is put on old time tunes with success, CRTC have achieved this with style and panache in their eponymously titled debut album (Ceri Ridge Trading Co).
• One could easily imagine them playing in the early hours around a log fire while onlookers are sucked in by the intoxicating fumes created within the music.
• It's easy to hear influences but difficult to pinpoint a genre.  Is it Appalachian mountain music, folk, hillbilly?  No this is Ceri Ridge Trading Company.  It's music for those who listen, a perfect antidote.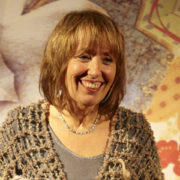 Christine McMahon is a vibrant Storyteller with an international reputation. She has a love of traditional folktales, particularly those with a link to her Northern roots. Born in Lancashire, living in Yorkshire, her ready wit and warm manner , mixed with a dollop of Northern grit make her a unique performer who tells tales close to home even when she is far away!
Not only a performer, Christine has a unique talent for improvisational Storymaking, guiding audiences of any age to have the confidence to create stories from their own imaginations.  Christine is a member of Shaggy Dog Storytelling Club, recognised as one of the most successful and long running clubs in England.   She believes that storytelling is the thread that has linked all her work in the last 15 years in drama, psychology, dramatherapy and now, in the Youth Justice System.
Christine is involved in a wide range of storytelling projects and performance workshops in settings ranging from Prisons to schools and nurseries. Christine is interested in developing international links to support storytelling development and stories for use with Restorative Justice.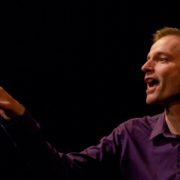 DANIEL MORDEN is no stranger to Fate – when he isn't booked to perform at the festival, he is usually in the audience!. Born in Cwmbran, he has told traditional tales for a living since 1989. His work has taken him all over the world, from First Nation communities in the Arctic Circle to Sydney Writers Festival. He has researched and retold a huge variety of stories, but he particularly enjoys Greek myths and wonder tales. He is known for his collaborations with musicians, such as The Devil's Violin. He is also an award-winning author.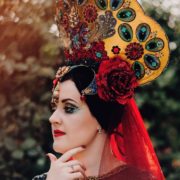 With her striking voice and strong Russian and Ingush heritage, "bold, exotic, impressive" Daria Kulesh is a rising star and a unique character on the UK folk scene. Her debut album Eternal Child was described as "phenomenal" and named Runner-Up in "Best Album of 2015 from a Female Artist" by FolkWords, among numerous other accolades. Her 2017 album Long Lost Home has won awards in the UK and in Russia. It has enjoyed national radio play and incredible reviews calling it a "triumph", a "masterpiece" and "a definite contender for the best album of 2017". Mike Harding praised the The Moon and the Pilot as "one of the most beautiful new songs of the last ten years".
A hardworking and in-demand live performer, Daria offers her audiences a thoroughly engaging, entertaining and enchanting experience. At Festival at the Edge, she will be joined by her brand new stellar band – Daria Kulesh Quartet – comprising one of the UK's leading young acoustic guitarists Tristan Seume, alongside Marina Osman (piano) and Kate Rouse (hammered dulcimer). With a unique mix of instruments, innovative and delightful arrangements, impressive musicianship and exciting, dramatic storytelling, this is an experience not to de missed. "The songs aren't just sung, but lived." (FATEA Magazine)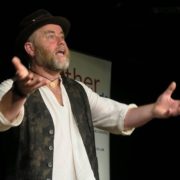 Dave is a jobbing teller of tales, an itinerant journeyman who performs at museums, heritage sites and schools, from Lindisfarne Holy Island in the north to Arundel Castle in the south. He works regularly for English Heritage and national museums like the Ashmolean and has written two books, 'Tudor Tales' and 'Norfolk Folk Tales for Children.' He is gleeman – storyteller in residence to the Stonemason Guild in Norwich and specialises in costumed historical storytelling of period rich and often irreverent tales shared by the poorer folk long ago. But of late he's ditched his costume in favour of normal clothes and a fine trilby hat and can be heard at storytelling events including Settle and Taffy Thomas's Tales in Trust. That said, many of his performances still have an historical flavour with sets like Tavern Yard Tales and Dame Fortunes Wheel.
'Dave the Yarnsmith is every inch a mesmeric character, from the tip of his expressive finger-tips to the tilt of tall hat, his stage persona grabs the audience's attention – and his warmth and immediate rapport ensures that he retains it from his first words to the very last..'   Settle Storytelling Festival 2016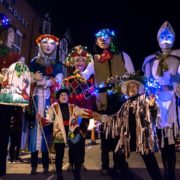 Fizzgigs, are a Community Arts Group based in Ellesmere, Shropshire.  They aim to create a range of local community arts events and performances which can be enjoyed by the local community and encourage a sharing of experiences and skills across all age groups.
They work in and with the local community, taking part in events such as the Ellesmere Carnival, and Summer and Winter Festivals, and running activities such as lantern workshops and art and music sessions.  Membership is open to everyone in the local community who shares their aims.
Join them on Friday evening for our opening ceremony – expect to be dazzled by their creations!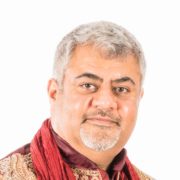 Gorg Kumar Chand grew up listening to stories from his parents and grandparents, both in England and India. Piecing together the fragments of forgotten folk tales and the great epics, he learnt to unravel and translate these complex tales. Forming coherent stories that are easy to follow without losing their spirit, heart and core for today's audience.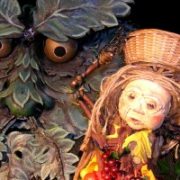 Hand To Mouth Theatre is Martin Bridle and Su Eaton.  Together, they have been creating and performing intelligent popular puppet shows and shadow puppet workshops in schools in Hampshire, Berkshire and Dorset for more than 30 years.  They also perform high quality puppet theatre in small venues and at festivals in the UK and around the world.
They continue to innovate and delight.  They combine acting, music and puppets to create shows for family audiences for festivals, theatres, and schools.  They make a welcome return to Fate with the show Piggy Wiggy and Flights of Fancy.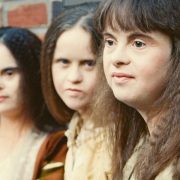 Kaleidoscope Theatre make a welcome return to FatE and they never fail to amaze us with their skill (an individual show ticket of £8 for adults and £6 for children will be available for their performance on Saturday, festival ticket holders do not need to purchase this).  Kaleidoscope Theatre is rather unusual in that seven of its members live and work all year round in a rambling house in Shropshire.  This little troupe is joined by friends, of all ages and from all walks of life, for the rehearsals and performances.  Its cast and crew include a professor, a radio presenter, doctor, florist, festival director, senior civil  servant, schoolgirl, vicars, teachers and young players – all of whom love theatre, dance, music and telling a tale.
Kaleidoscope is not only a theatre company but also a community of like-minded folk in pursuit of, and with a passion for creativity and friendship.  Everything for a show is designed, written and created in-house with costumes, set and properties made from natural and recycled or reclaimed materials.  the company is run on a shoe string, without funding and everyone is a volunteer.
On a Strange Unsettled Sea breaths into life after only a few weekend rehearsals, when the cast can escape everyday life and work, and on a tight budget.  "This play is dedicated to all those who are part of it, to the folk who have brought Festival at the Edge to life and to the audience who come to watch it unfold.  May we always hear enchanted stories told by the fireside and believe in a Happy Ever After ending." – Kaleidoscope Theatre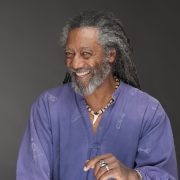 Len Cabral is an internationally acclaimed, award winning storyteller who has been engaging and entertaining audiences with his storytelling performances for over 40 years, A great grandson of a Cape Verdean whaler whose grandparents immigrated to America from the islands off the coast of West Africa, Len's strong Cape Verdean ancestry comes alive in his exuberant retelling of African, Cape Verdean and Caribbean folktales as well as original stories and tales from around the world. Len is a popular storyteller at theatres, schools and festivals throughout the United States and has recently performed at festivals in Ireland, Belgium Amsterdam and Singapore. He is the recipient of the National Storytelling Network 2001 Circle of Excellence Oracle Award. Len teaches the art of storytelling at colleges and conferences and leads in-service workshops for healthcare and social agencies. He has used stories to connect with people in homeless shelters and prisons.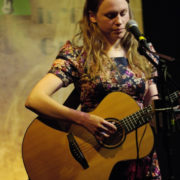 Pouring honey into your ears and radiating charm, Louise Jordan fascinates and entertains, mixing hope with heartbreak through her acute observations of the everyday and extraordinary.  Fuelled by an untamed spirit, Louise Jordan's music is authentic and timeless, underpinned by an unassuming natural elegance that places simple honesty alongside bold imagination.
Self-accompanied on piano and guitar Louise Jordan is every ounce the quintessential independent artist.  With five recordings, eleven UK and three European tours under her belt Louise Jordan is just getting started.  Louise is a Creative Lab Associate to the New Theatre Royal Portsmouth.
Louise's project 'No Petticoats Here' has been supported using public funding by the National Lottery through Arts Council England.  No Petticoats Here is a project that tells the stories of remarkable women of the First World War through song.  These songs recognise the extraordinary and inspirational achievements of women working in many spheres. From the women footballers who kept the sport alive during the First World War to the aspiring teenage journalist who dressed as a soldier and travelled to the Western Front on a bicycle, the women who risked their lives to treat the wounded yards from the German Front Line, an inventor and engineer, a master spy and the women who made the weapons of war.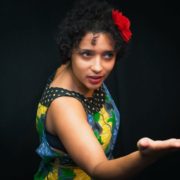 Mara Menzies is one of Scotland's best loved performance storytellers with a powerful, dynamic and physical style that captures the imagination of any audience. She has performed and led workshops around the world including Kenya, Singapore, Jamaica, Sri Lanka, United Arab Emirates, the USA and across the UK.
Mara Menzies is an internationally touring storyteller and story-maker based in Edinburgh. She is passionate about sharing stories and lived experiences from her dual Scottish and Kenyan heritage, sculpting inspired storytelling performances for the stage and creating bespoke stories for unique events.
"Storytelling is the root of what makes us who we are. Stories move us, inspire us, teach us and help us see our place in the world".
Collaborating with the finest artists, dancers, musicians and digital wonderkids to create powerful, energetic, deeply moving storytelling works of art.
Mara is appearing at FatE through sponsorship from Moat Brae Historic House and Neverland Discovery Gardens – peterpanmoatbrae.org
Maria Whatton and Sarah Matthews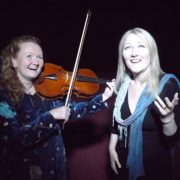 Maria says "A gift received one birthday when I was a child was a night gown.  It was massive, far too big for my skinny frame.  My mother referred to it as Fionn Mac Cumhaill's nightie.  An Irish legend present in an every day description."
If Maria is ever pushed to tell her "favourite" story, in her work as a Storyteller, the stories that leap from her heart are those that were told to her by her Irish Dad when she was a child. Why? Because when she retells them she hears his voice.
Maria was brought up on a council estate in Liverpool, one of eight children.  Their  treasure was in the language, the stories, not in material things.  She shares with you the joy of that wealth.
Maria and Sarah have worked together before in their collaboration The Lunar Men, an interactive performance centred around the extraordinary characters of the Lunar Society, performed at FatE a few years ago.
Sarah is a full time, self employed extremely talented folk musician and singer living in Derby, teaching and performing.  She plays the fiddle, viola, tenor guitar, sings and dances with Pecsaetan Morris in Sheffield.
As a duo with Doug Eunson she has performed as part of Cross o'th Hands and the Ram Company.  Sarah also plays with the concert and dance trio Cupola with Doug Eunson and Oli Matthews, playing fiddle / viola, melodeons, hurdy gurdy, sax / clarinet and percussion and singing in three part harmony.  The Cupola trio also form up into a quartet with Lucy Ward – winner of the Horizon Award in the BBC Folk Awards 2012.  Cupola also combine forces with Andy Cooper on Bass and Ian Wilson on Mandola to form DanceCupola, an energetic dance band playing for ceilidhs at festivals.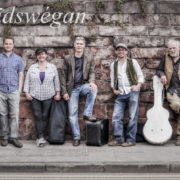 Midswégan meaning "to sing, play or sound together in concert or harmoniously" in Anglo Saxon.  They are dedicated musicians and friends and their band name is both their promise to their audience and a reminder to themselves about what on earth we're all supposed to be doing.  Midswégan are great supporters of FatE and we love having them with us.
Midswégan are Adam Beresford-Browne – vocals, guitar, mandolin; Richard Chaff – vocals, guitar, keyboards; Tim Cunningham – vocals, fiddle, guitar; Ian Jones – flute, melodion, vocals; Clare "Fluff" Smith – fiddle, viola, vocals; Jay Stannard – percussion, bass guitar, vocals.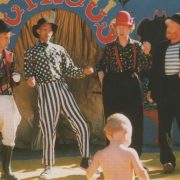 The Professor and his Panic Circus will be presenting a mix of workshops, games, puppet shows, shadow shows, as well as storytelling from the Professor, Chris Panic with his unique magical 'Coat of 100 Pockets', and a coat of a 100 treasures! As the Professor says, "You are never too old to have a happy childhood!" Join him and his versatile team for a fun packed weekend of activities that appeal to children of all ages. Don't miss the Big Top 'Warm Up' on Friday evening and Punch & Judy on Saturday.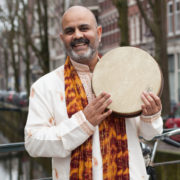 Peter Chand is an award-winning international Storyteller, constantly in demand for his unique retelling of tales from his motherland. Peter has shared his stories across Britain and has also performed in Norway, France, Austria, Canada, and Singapore, amongst other countries. He grew up with Punjabi as his first language, and still visits family in the Punjab to collect folk tales, translating them into English and sharing them with audiences worldwide.
As well as touring extensively, he also shares his storytelling skills by leading workshops with teachers, librarians, budding storytellers, and anyone trying to find their voice and gain confidence when performing in public. Peter is also part of the organising team of Festival at the Edge, which is the oldest storytelling festival in England.
He has recently been honoured by being chosen as one of the 100 Masters, by Creative Black Country, which celebrates creativity and excellence within the many towns and cities which make up the Black Country region.
www.chandstory.com  Photo credit – Elise Gherlan
"Peter transports the listener into his world with remarkable energy and great expression… I was spellbound" Kim Normanton Producer BBC Radio Four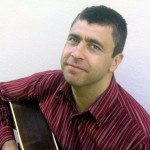 Pete Morton is a folk singer-songwriter with a wealth of great songs and a remarkable singing voice.  A compelling and energetic performer whose songs have been described as an unruly mix of humour, politics, love and social comment wrapping their way around the folk tradition.  Songs like 'Another Train' and 'When we sing together' have become folk club standards and his performances are a joy.
"NOT ONLY IMPRESSIVE..BUT A REVELATION" – The Guardian
"A writer who manages to express everything, from the highly personal to the truly international" – R2 magazine
"An independent spirit, an old school troubadour…he continues his merry niche" – froots magazine
"Pete is probably best known for writing 'Another Train' but that is just the very tip of the iceberg. " – FATEA magazine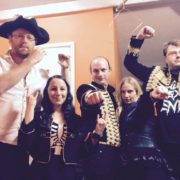 Pilgrims' Way are a band of multi talented musicians – Edwin Beasant, Jude Rees, Tom Kitching, Jon Loomes and Heather Sirrel.
Edwin is a musician with a varied and possibly dubious background, having been brought up in a Morris Dancing family.  Steeped in the traditions of England, he sought further influences, finding inspiration in the continental and trans-Atlantic traditions, as well as through Motown and soul.  A compulsive multi-instrumentalist, Edwin plays many and is best known as a talented and inventive box player with ABU and for his stint as the drummer with Jabadaw.
Jude is a woodwind specialist and is widely acclaimed for her lyrical playing delivered with drive and dynamism.  A founder member of Isambarde, Jude's barnstorming oboe playing coupled with her ability to convey narrative through song has won her plaudits from audiences around the country.  A sought-after session musician, she has guested on numerous albums and arranged strings and brass for studio projects.
Tom was described by Mike Harding as "one of the best English fiddlers ever " and is certainly one of the most in demand musicians on the scene, gigging with Gavin Davenport, Gren Bartley, and Albireo, as well as with his own band, and a duo with Mr Loomes.  In 2015, he brought out his first solo album 'Interloper' to critical acclaim, winning a place on the Telegraph's list of folk albums of the year, and being awarded 5 stars and 6th best album of the year in the Sunday Express.
Jon is renowned for his work with traditional English folk music. His debut solo album was released by Fellside Records to considerable acclaim and he has subsequently appeared as a guest musician on numerous CDs, and has produced many more.  Upon joining Pilgrims' Way, he was reckoned by James Fagan to have 'Filled in holes he didn't know were there', thereby saving the council a fortune in compensation cases.
Heather brings her own particular style of groove to the Pilgrims' party.  Having once been crushed by an avalanche in the 'J' section of Our Price, a strange blend of Bert Jansch, Jamiroquai, Jethro Tull, The Jacksons and Janice Joplin has influenced her music ever since.  A highly experienced cross-genre player, Heather braves uncharted territory of the lower frequencies for several bands.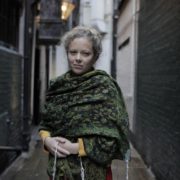 Thanks to her family's storytelling traditions, Rachel has been attending FATE since both she and we were very small.  This is Rachel's first return to FATE as a teller since her part of the Young Storyteller of the Year performance.
Since then she has worked with the Crick Crack Club, at storytelling festivals around the World, and on BBC Radio.  A hybrid of immigrant ancestry and London grit, Rachel's telling is spell-binding, warming the heart, and restoring flesh to the bones of old tales.
"Immense skill and breathless conviction; There's no faulting Reid's command of her craft" The Times
www.rachelrosereid.com
twitter: @rachelrosereid
www.facebook.com/rachelrosereid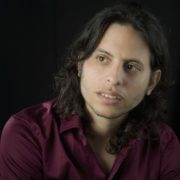 Raphael Rodan graduated in 2008 from the School of Speech and Drama in Harduf in his country of birth Israel. He continued his actor training at the Actors Temple in London. He worked in Israel as a theatre director for Arab and Jewish young actors, using theatre as a bridge for communication. Since his move to Europe he runs storytelling workshops and performs all over the continent. Together with Sahand Sahebdivani he has established the "Mezrab Storytelling School". A school that is striving to link the ancient art of storytelling with today's burning questions.
https://www.raphaelrodan.com/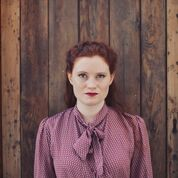 A young folk singer from Wiltshire, Rosie Hood is known for her strong, pure voice and engaging solo performance.  A BBC Performing Arts Fellow in 2015 and a 2016 Horizon Award nominee, Rosie has become more than purely a traditional singer.  Having learnt folk songs from an early age, Rosie has a keen interest in the history of traditional songs, particularly those of her native Wiltshire, where she has spent time researching in the local archives and developing a broad repertoire of local songs.  June 2017 saw Rosie Hood release her first full-length solo album The Beautiful & The Actual, a collection of old and new folk songs, described by The Guardian as "a classy arrival"
Shonaleigh is a storyteller who was brought up in the Drut'syla tradition by her Bubbe (Grandmother).
"You hear people talking about the storytelling revival, but in Jewish culture it never died. From the age of four I lived and breathed the tales of my childhood, unaware that there was anything unusual. I thought this was quite normal and that all storytellers had this background … It was quite routine for me to fall asleep at night listening to songs and stories in English, Yiddish, Hebrew, Dutch and Turkish – a wonderful colourful mix," she says.
A dedicated and committed storyteller, who has actively worked to expand and share her tradition, she has a repertoire of over three thousand stories which can be adapted as appropriate for the theme and audience with whom she is working.
She has performed in venues from church halls to London's Albert Hall, from forests to the Barbican, and at festivals in the U.K., on the Continent, USA and New Zealand. She also does a great deal of work in schools and among community groups, helping people, particularly teenagers and the immigrant community, find their voice.
Shonaleigh was the UK's Deputy National Storytelling Laureate from 2010-12, has completed commissions for the British Library, the British Museum and Hay-on-Wye Literature Festival, and is a regular contributor to BBC arts programs.
Her 2012 appointment as Artistic Director of Phrase Arts, where she helped promote storytelling within communities, has led to her work with the European Court of Human Rights.  She was Teller In Residence at the International Storytelling Centre in Tennessee.  Shonaleigh is now based at the International School of Storytelling in East Sussex, UK.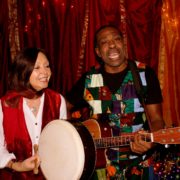 'Story Feast' shows for children..
"Irish/ Afro Caribbean duo Spud and Yam aka Kate Corkery and Winston Nzinga bring a feast of tasty stories, songs and music to inspire and delight little ones of all ages.."
Kate will also be performing 'Sweetshop on the Shore' commissioned by FatE in 2012 as part of FatE's 20 year celebration of commissioning new storytelling works.
http://www.spudandyam.co.uk/?q=node/12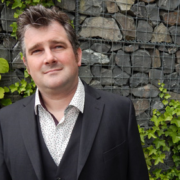 Steve Lally has worked as a storyteller throughout Ireland and the UK for over fifteen years. He writes his own material and is an avid collector of folklore and mythology (He has written three books on Irish Folklore and another that he is currently co-writing with his partner Paula Flynn on Fairy Stories from the 32 counties of Ireland).
Steve Lally is experienced with all age groups and abilities, he is equally at home in all areas from hospitals to peace & reconciliation work.
Growing up in a rural part of Co. Kildare (now based in Northern Ireland) his young self gathered stories like corn and saved them for later years. His Grandmother was a Seanchaí (Storyteller) and she was a huge influence on his storytelling. He is both authentic and original, he has a wonderful stage presence and a great old Irish wit and charm that some would feel is long gone. He is constantly collecting and writing new material. He brings his stories far and wide and wants to continue on with this vital and significant art form.
'Steve lally brings the ancient art of storytelling into the 21st century, by simply taking the story from the fireside of a Rural Shebeen into modern surroundings.
The technology, fashions and sounds of the world have all changed but the story  still  harbours the same power and impact on the audience today as when it was told hundreds of years ago'.
Tanya Batt and Peter Forster
Tanya Batt is a self confessed story-o-phile and frock-o-holic. Hailing from Waiheke Island, Aotearoa, New Zealand she is a green fingered witch, a word warbler and story stitcher who channelled her childhood propensity for talking and her love of dressing up into a real 'imaginary job'. Stories have put food on her table and a roof over her head for more than a quarter of a century enabling her to share her work in over 20 countries. She is the creative director of the 'Once Upon An Island Charitable Trust' that uses storytelling for community building, environmental and cultural education.
Peter Forster is a versatile musician, composer and instrument maker who plays a variety of instruments. He builds guitars and wooden flutes, and is currently building a cello. Peter is passionate about the healing power of music and singing, and is known to burst out in Mongolian overtone chanting at times!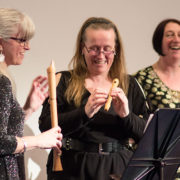 The Bailey Sisters – who aren't sisters and don't drink Baileys – are a close harmony trio with a wider-ranging repertoire of songs ancient and modern.  They are Shelley Rainey, Karen Dyson and Aly Rainey.  Karen and Shelley have sung for many years in various choirs, and met through their chamber choir Duodecimo, where Karen sings first soprano and Shelley second alto.  Aly's musical background is mainly orchestral but she too has a fine singing voice and slots neatly into the mezzo role.
Join them as they lead an uplifting and harmonious morning workshop of singing games, rounds, and three-part songs. No previous harmony singing experience needed, and no maximum number as long as we all fit in the tent!  Suitable for all ages (although one of the songs does mention a farting deer.)
The Ironmen
&

Severn Gilders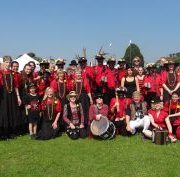 The Ironmen and Severn Gilders are two separate but closely associated teams based in the historic town of Ironbridge in Shropshire. The Ironmen are a men's team who dance in the Welsh Border tradition, while the Severn Gilders are a women's team who dance North-West Morris. Although they dance separately, they almost always appear together as many of the dancers from one team appear as musicians for the other. Originally formed in 1976, they have danced at festivals all over the country and Europe. The team colours are black and red.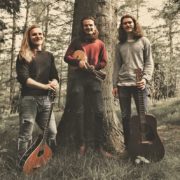 Hailing from North Wales and Yorkshire, The Trials of Cato returned to the UK from Beirut, Lebanon in the winter of 2016.  Since then their feet have barely touched the ground as their eclectic brand of folk music – encompassing 18th century ballads all the way up to self-penned stomping dance tunes – has seen them booked out at folk clubs and festivals across the country, with 2018 looking ever busier.  Having caught the attention of the industry heavyweights like Mark Radcliffe and Mike Harding, The Trials of Cato debut album is due for release later this year.
The band's live set includes both original and traditional material, delivered on fretted instruments alone to achive a musical presence not often heard on the modern folk scene.  Praised for the diversity of their material and influences, their live show 'invariably stuns audiences wherever they play'.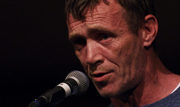 Thomas McCarthy comes from Birr in County Offaly in Ireland.  His family are the McCarthys who settled there generations ago. He is an Irish Traveller, and comes from a long line of old traditional singers and musicians who kept the tradition of singing strong.
Thomas sings wherever invited, at clubs, festivals, people's houses, weddings, funerals, christenings, at home, down the road and over the sea. He has sung all over the UK and Europe.  Including Whitby Folk Week, Sidmouth FolkWeek, the Fife Traditional Singing Festival, Brosella Folk & Jazz Festival (Belgium), the South Roscommon Singers festival (Knockcroghery) and the Frank Harte Festival (Dublin) – where he shared a stage with Christy Moore.
Recently he has started working in schools offering song and story sessions for children of all ages, which are highly engaging and raise awareness of the traveller community. For schools this can link into projects in literacy, geography, history, music and PSE. He has even worked in classrooms where there are kids from gypsy and traveller backgrounds, which is particularly special to him.  "To be able to tell children the wonderful stories I learnt from our people, the travelling people, that my family passed down through the generations, is a joy."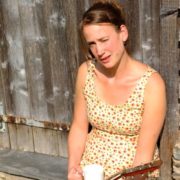 It's unusual to find someone who's as good a songwriter as an instrumentalist. Vera van Heeringen is that person.  A consummate guitarist, highly acclaimed by her contemporaries, she brings the instrument to life in way that is entirely her own.  Vera also writes tunes and songs which deliver straight to – and from – the heart.  Firmly rooted in Transatlantic traditions, her original contemporary Americana showcases both these skills: firebrand instrumental virtuosity and poignant, emotionally astute song writing.
The 27th Storytelling Festival at the Edge - Friday 20th July to Sunday 22nd July 2018