Artists appearing
at Festival at the Edge 2018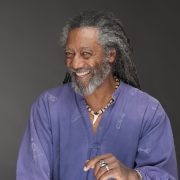 Len Cabral is an internationally acclaimed, award winning storyteller who has been engaging and entertaining audiences with his storytelling performances for over 40 years, A great grandson of a Cape Verdean whaler whose grandparents immigrated to America from the islands off the coast of West Africa, Len's strong Cape Verdean ancestry comes alive in his exuberant retelling of African, Cape Verdean and Caribbean folktales as well as original stories and tales from around the world. Len is a popular storyteller at theatres, schools and festivals throughout the United States and has recently performed at festivals in Ireland, Belgium Amsterdam and Singapore. He is the recipient of the National Storytelling Network 2001 Circle of Excellence Oracle Award. Len teaches the art of storytelling at colleges and conferences and leads in-service workshops for healthcare and social agencies. He has used stories to connect with people in homeless shelters and prisons.
The 27th Storytelling Festival at the Edge - Friday 20th July to Sunday 22nd July 2018
Tickets for 2018 festival will be on sale sometime in November, check back later for details.