Artists appearing
at Festival at the Edge 2017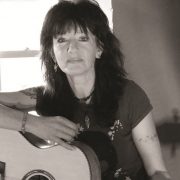 Hailing from the North Yorkshire National Park, Anna Shannon deeply embraces all things rustic. On hearing her homespun and organic compositions it is clear that the wonders of the natural world are the things that strongly colour her narratives. She is an immensely skilled multi-tasker, a creative and strikingly accomplished singer, songwriter, multi-instrumentalist, arranger and designer, with her own definite, intense vision and a strong musical identity to match.
2006 saw her first album "The Whale Dreaming" being released after being encouraged by winning BBC Radio "Yorkshire Songwriter of the Year" which she had entered on spec. Since that time Anna has released numerous albums, and her latest, "A Celebration of Old England", released by Wild Goose Records, sees her forging a strong path into the heart of today's folk club and festival circuit.  Anna is carrying on a musical tradition, finding fresh meaning and relevance for us all in the old ways.
"stunning singing voice and distinctive guitar style"  Roots magazine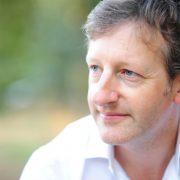 Michael has told stories both as a solo performer and with other artists throughout the UK and Europe as well festivals in North and South America.  Most of his work is in either English or Welsh and occasionally both at the same time!  He is a familiar performer in the UK festival and club scene and draws particular inspiration from the Welsh oral heritage and landscape.  He combines depth of material with lightness of delivery which is timed and paced to perfection and minted fresh for every audience.
Many will have seen him on tour with Hunting the Giant's Daughter, a faithful and contemporary retelling of the earliest Arthurian tale.  In 2011 he was awarded a Major Creative Wales Award, and took part in the 3rd Labo at La Maison du Conte in Paris.  Michael was a featured teller at the 2012 US National Storytelling Festival in Jonesborough, Tennessee.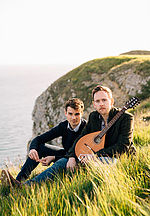 NINEBARROW are a multi-award winning folk duo, who are impressing audiences across the country with their innovative and captivating take on the folk tradition.  Described by Mike Harding as sounding 'damn fine' and by Kate Rusby as 'absolutely amazing', JonWhitley and Jay LaBouchardiere combine breath taking vocal harmonies and melodies, delivering original songs that are inspired and rooted in the landscape and history of the British Isles.  As well as crafting unique and engaging original material, Ninebarrow also take a wide range of traditional folk songs and rework them in their own, distinctive way.  Not only exceptional singers and musicians, Ninebarrow are also equally passionate about the stories behind their songs – combining their music with history, folklore and storytelling.  The duo were recently nominees for 'Best Duo' in the Fetea Magazine Awards 2016 and in 2017 are nominees for Best Duo in the BBC Radio 2 Folk Awards.
Vicki Swan and Jonny Dyer
The 26th Storytelling Festival at the Edge - Friday 28th July to Sunday 30th July 2017